This article explores the best vocal effects pedals in the market. When you're a guitar player, you're used to have stomp pedals for all kinds of guitar effects.
But it is not just guitars that can benefit from effect pedals. If you also sing, you may be interested in applying effects to your vocals.
That's where you can get one or more vocal effects pedals, which you can control while also playing your guitar.
This article shows a few of most common vocal effects pedals in the market.
1. Flamma FV03 Vocal Effects Pedal
The Flamma FV03 is a complete pedal dedicated to vocal effects. It provides several effects that will make your voice sound much more interesting. Among the effects you will find the following:
Delay: adjustable delay will allow you to change the delay parameters.
Room Reverb: reverb can be adjusted by changing room size.
Hall reverb
Classic pedal reverb
Voice altering effects (6 options): these are specific for human voice. With these options, you can change type of voice (male or female), or use a different voice altogether: baby, or robot. Here are the available options:

Low male voice
Warm female voice
Cute baby voice
Robot-like voice (3 options)
Also Read:
Boss VE-500 Vocal Performer Review
How to isolate vocals from a song
Mooer E7: Polyphonic Guitar Synth Effects Pedal Review
Key 9 Pedal Review: Electric Piano Machine
Essential Guitar Pedals You Need to Have
Spark Amp: You'll be Surprised By This Guitar Amp
Focusrite Scarlett 2i4: USB Audio Interface Review
2. BOSS VE-20: Vocal Effects Pedal
The BOSS VE-20 pedal is an advanced effects processor for voice. It gives you several options to modulate voice effects, resulting in a rich gamut of voice settings.
If you think that stomp boxes are only for guitar aficionados, you'll be surprised with this product. This new pedal is easy to use and has features that have been specially designed for singers.
The BOSS VE-20 contains some of the best vocal-effects tech on the market. Some things that you can easily do is to instantly add lush vocal effects with a single click.
You can also add harmonies to your singing parts. Other features include realtime pitch-correction, which will help you to be always in tune.
There are several other single effects that you can add, such as
distortion,
strobe,
and radio simulation.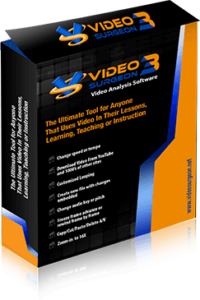 Loop creation is another feature that will help expand your creativity. You can add new loops and layers on top of existing loops, all this in real time.
This pedal is portable, and you can run it both on AC (cable included) or on battery power.
A few examples of the available effects to illustrate:
Voice changing effects: male to female, etc.
Chorus effect
Pitch control
Doubling effect
Cons:
Some people complain about lack of editing features.
Documentation of all features is somewhat lacking.
3. Zoom V3 Vocal Processor
The zoom V3 is an innovative vocal processor that can be used to give many voice effects you'll find on higher end products.
This is a pedal that has several effects, which include harmonizing options, pitch correction, and voice distortion.
With the help of this pedal your voice will sound amazing. You can use this for individual practice, recording, or live performance.
You can employ this pedal while streaming, recording new music, or collaborating online.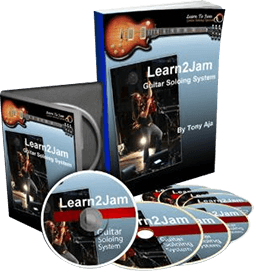 Another useful feature of the V3 is the inclusion of a professional quality pre-amp. The pre-amp can boost the sound quality of your voice. It has an enhanced option, which  automatically optimizes the output of any connect mic.
With the Zoom V3, you ca press a single button and use the main knob to alter your vocal characteristics. All this can be done without changing the pitch.
You will find 16 pre-built effects including:
Delay effect
Compression
Reverb
Key and chromatic pitch correction
It can also be used as an audio interface if needed.
For more information, check the Zoom v3 Review.
4. BOSS Vocal Performer
Another strong option for vocal effects pedal is the BOSS Vocal Performer. This pedal is an elaborate vocal multi-effects stompbox, which singers or guitarists can use to improve their voce performances.
It operates as a standard effects pedal. One of the most useful features is harmonic or pitch correction, which will certainly help you during live performances.
The automatic vocal harmony/pitch correction contains the newest algorithms developed by BOSS. They generate high quality sounds that appear very natural. The resulting audio also has very smooth tracking.
The BOSS DSP engine is and advanced sound processor. It converts your vocals according to the list of effects selected. You can use up to nine simultaneous effects.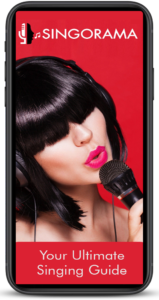 There is a large number of filters that you can apply to your voice. For example, the voice can be enhanced using tone shapes, reverb and delay. You can also apply other effects such as modulation, distortion, EQ, filter, and many others.
Using this pedal, you can also generate electronic voices, which you can use to improve your videos, podcasts, etc. You can also create electronic voices based on guitar input.
A number of vocal effects are present in this unit, including:
Reverb
Delay
Modulation
Distortion
EQ
Filtering
Vocoder effect: electronic voice generation
Click here to read more about the BOSS VE-500 Vocal Performer.
5. Roland VT-4 Vocal Transformer
Like many Roland products, the Roland VT-4 Vocal Transformer delivers excellent sound quality.
The Roland VT-4 Vocal Transformer is a unique and powerful vocal effects pedal designed to transform and enhance your vocal performance. It offers a range of creative tools and effects that can completely transform your voice, allowing you to explore new sounds and styles.
One of the standout features of the VT-4 is its ability to pitch-shift and harmonize your vocals in real-time. You can easily create rich harmonies by dialing in the desired intervals and adjusting the key. This feature is particularly useful for adding depth and complexity to your vocal performance, whether you're singing lead vocals or providing backing harmonies.
The VT-4 also offers a variety of other vocal effects to shape your sound. It includes built-in reverb, delay, and megaphone effects that can add character and texture to your vocals. The reverb effect provides a sense of space and ambience, while the delay effect adds echoes and repeats to your voice. The megaphone effect gives your vocals a distinctive vintage, lo-fi sound reminiscent of old-school public address systems.
Another notable feature of the VT-4 is its formant shaping capabilities. It allows you to adjust the formant of your voice, which can dramatically change its character and timbre. By modifying the formant, you can create unique vocal sounds, such as deep, bass-like voices or high-pitched chipmunk-like voices. This feature opens up a world of creative possibilities and allows you to explore different vocal styles and textures.
The VT-4 also features a dedicated vocoder mode, which enables you to blend your voice with synthesized sounds. By connecting a compatible instrument or synthesizer, you can use the VT-4 to create classic robotic vocoder effects or experiment with futuristic vocal textures.
In terms of control, the VT-4 is designed to be user-friendly and intuitive. It features dedicated sliders and knobs that allow you to adjust the parameters of each effect in real-time. It also includes a "Memory" function that lets you save and recall your favorite settings, making it easy to switch between different presets during live performances or studio sessions.
The VT-4 is housed in a compact and rugged enclosure, making it suitable for both stage and studio use. It can be powered via batteries or a USB connection, providing flexibility and convenience.
For more information, check this complete review of the Roland VT-4.
6. TC Helicon Vocal Effects Processor
Finally, we highlight the Helicon Vocal processor. It is a small unit, but it packs a lot of useful features and effects. A few examples are:
Megaphone effect
Distortion
The TC Helicon VoiceTone X1 is product geared towards live vocal effects processing. It has a lot of features that will help you on live vocals performance.
Using the VoiceTone X1, a singer or singer/guitarist has a lot of control over the processed voice signal.
This pedal is able to help even with live vocals with down and dirty sound quality. The result, however, provides sharp vocal distortion effects.
The Helicon X1 is compact, easy to use, and durable. This pedal has all the durable features needed for you to use it daily.
Whatever your use case, be it a short vocal where you want to emphasize a few words, or more than that, the Helicon X1 will be a helpful system. The VoiceTone X1 vocal effects pedal intensifies your vocals in a way that make them truly unique and alive.
Cons:
Some people complain about noise issues, but they can be solved by applying noise gates processing.
7. TC-Helicon Duplicator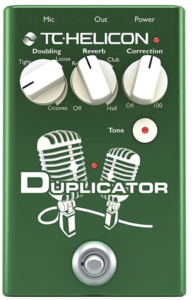 The TC-Helicon Duplicator is versatile pedal can can be used to apply effects to your voice signal.
The first feature of this pedal is the ability to apply simple effects, with high quality results. You can use this pedal for effects like doubling and reverb.
You can also use the duplicator for pitch correction. This will make you sound good even on live performances.
In terms of doubling effect, you can count three standard sounds from this pedal: you can apply tight, loose, or octave up and down. Many options can be applied to these basic presets.
Other useful effects include:
Reverb, which can change the perceived surroundings of you sound.

Auto-chromatic pitch correction: this will allow you to keep in tune. 
Equalization and compression, with gates.
8. Vocal Corrector Pedal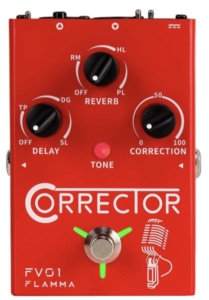 Do you want to make sure you're always on pitch, even in the middle of a live vocal performance?
Then you can now count on the Corrector: Flamma FV01 vocal pitch correction pedal.
This is an extremely advanced pedal that analyzes and corrects voice performances. It does all this live, so you don't even need to worry about small pitch problems during you gigs.
With  Corrector, you have not only pitch correction, but you all get several vocal effects that will make your life easier.
The pedal offers three separate vocal effects that can be applied as you need. The status of these effects is indicated on a LED in the center of the pedal.
There are a number of modes that you can apply during your vocal performance. These are labeled as Warm, Bright, and Normal modes. Each of these modes indicate a different EQ setting that you can use.
9. Zoom V6 Vocal Processor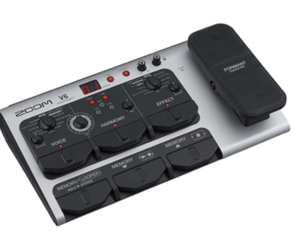 The Zoom V6 Vocal Processor is a high performance vocal pedal that offers everything you need to improve your recorded or live vocal performances.
With a large number of effects that can be easily accessed with a foot switch, the Zoom V6 gives you a simple interface to control the effects you use.
This pedal allow you to use up to three vocal processors at the same time. They can be freely combined as voice, harmony and effect sections.
The pedal also includes highly directional SGV-6 microphone. This mic can be used to isolate your vocal from other elements. It also gives enhanced processing capabilities.
The shift pedal can be used for adjusting your vocal character live. Excellent for performances.
Other features include: 12 voice effects; more than 10 studio effects such as distortion and chorus. A 3-voice harmonizer is included, along with over 40 presets.
Finally, this pedal also includes a looper function. Records can hold up to 3:30 minutes of content. 
Check this exclusive Zoom V6 Vocal Processor review.
Vocal Pedal Review and Comparison
Here is a review comparison of the many vocal pedals that we have seen above.
These comparisons are based on data provided by manufacturers and also on our personal experience.
Vocal Pedal Videos
Here is a quick video that can provide some additional information on vocal pedals. They describe a few of the pedals that have been discussed above. For additional information, take a look at our detailed description of each pedal.
Here is a nice review of the Boss VE-2 :
Learn More About Guitars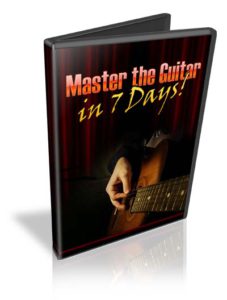 If you want to learn more about guitar, feel free to request your copy of our free guitar course. There you will learn:
How to take care of your guitar
Learning to play tablature
How to learn every note in the fretboard.
And much more.
To get this free course, just go here and request it to be send to your email .