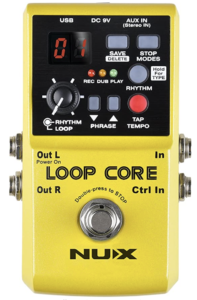 A good looper pedal can be a guitar player best friend. I really enjoy using Nux Loop Core pedal, and in this article you'll see the advantages of this product.
This popular portable drum machine comes equipped with nothing less than 40 patterns. It is very versatile, and comes with different styles and variations for each style. Using these options will drive you play into high gear.
Basic Functionality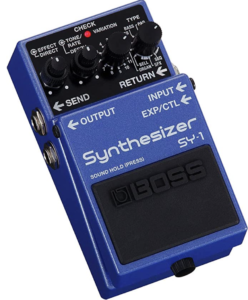 The basic functions of the Loop Core pedal cover all the basics you need from a drum machine and looper. First of all, you can select several pre-configured rhythms as accompaniment to your songs.
Moreover, the Nux Loop Core has an integrated looper, that allows you to create basic loops, add sounds, remove previous records, and save the result in one of 99 memory positions.
But this is just the basics: using the Nux Loop Core you will find several features that will help you to practice without a band. You can even use it to perform live.
Read Also:
Guitar Synthesizer: BOSS SY-1 Pedal
9 Best Vocal Effects Pedals for 2022
Mooer E7: Polyphonic Guitar Synth Effects Pedal Review
Essential Guitar Pedals You Need to Have
7 Products To Maintain and Clean Your Guitar
Connecting to The Nux Loop Core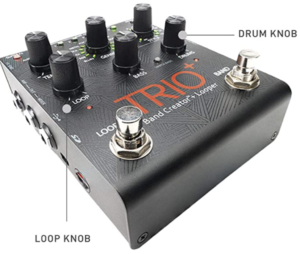 Another important functionality is to connect this small pedal to your instrument and other equipment. You can connect the Nux Loop core in several ways. You can send the guitar signal directly to the pedal, or you can put it at the end of your sequence.
I prefer to put the Nux Core at the end, so I can record all the effects and put them in different tracks of the looper.
The Nux Core give your the ability to experiment and discover the best sound for you.
Another option is to connect a microphone to the 'Aux input'. This way, you can record yourself singing, along with other instruments such as a bass or drum kit. The ability to experiment is enhance, since you can save your drum creations in one of the 99 available memory slots.
Still another option you have is to connect to a computer via USB port. This way, you can save your loops and drum patterns. You can use them in your preferred recording software.
Features of the Nux Loop Core
With this little pedal, you can achieve a maximum of 6 hours of recording time. In each track, however, you have access to unlimited layers of overdubs. This way, you can easily compose your own music.
Here are some of the most import features in this looper pedal:
You can record and/or overdub your music in as many layers as necessary. In the end, you can save your loops and drum patterns.
Total of 6 hours recording time. This is enough time to store your new album and create a live performance.
Recording can be in mono or stereo. Chose the best method for your sound system.
Large number of memory tracks: up to 99 loops can be saved.
How to Control the Looper
This looper comes with several rhythmic styles available for immediate use. Standard and built-in drum patterns available.
You can select the tempo by just tapping along with the song. The Nux Loop core can easily identify the tempo based on this indication. Additionaly, You can slow down or speed up any recorded loop. This feature also allows one to keep the same key. This can be help you during your practice.
Another interesting feature is the switching phrases button: this gives your the option to switch between record phrases automatically, and without latency. There is also the nice ability to add an extensional pedal (as an option). This can be very useful when using this pedal during live performances.
Finally, consider that you can save the results of your work to your own computer. Just connect the pedal and you'll be able to import your content.
Conclusion
This is a very useful drum machine that I have found to be among the best. The available rhythms are really helpful to strum along with.
This operation of this pedal is intuitive too. It uses very simple selection. Thus, adding and deleting layers can be done very easily. In a matter of a few minutes you'll be able to master this product, and learn to save and enhance your own loops.